Membership in GBMP
Support for your Lean Implementation
Membership in GBMP:
Support for your organization's Lean Journey
GBMP's Lean Membership mission is one more part of our commitment to providing manufacturing and healthcare organizations with the highest quality training and information available and should be an integral part of your Continuous Improvement efforts. A GBMP enterprise-wide membership offers your company valuable opportunities for saving money on resources for beginning and sustaining a Lean initiative. It is also an excellent source of networking and bench-marking opportunities, through plant tours, webinars, conferences, and more. GBMP member companies all share an interest in the Continuous Improvement philosophy and recognize the value of belonging to a Lean Network and community that will help, support and inspire you & your team on theLean journey to operational excellence.

Fill out the form below to request more information about membership in GBMP or purchase your membership online now.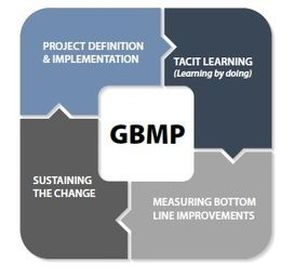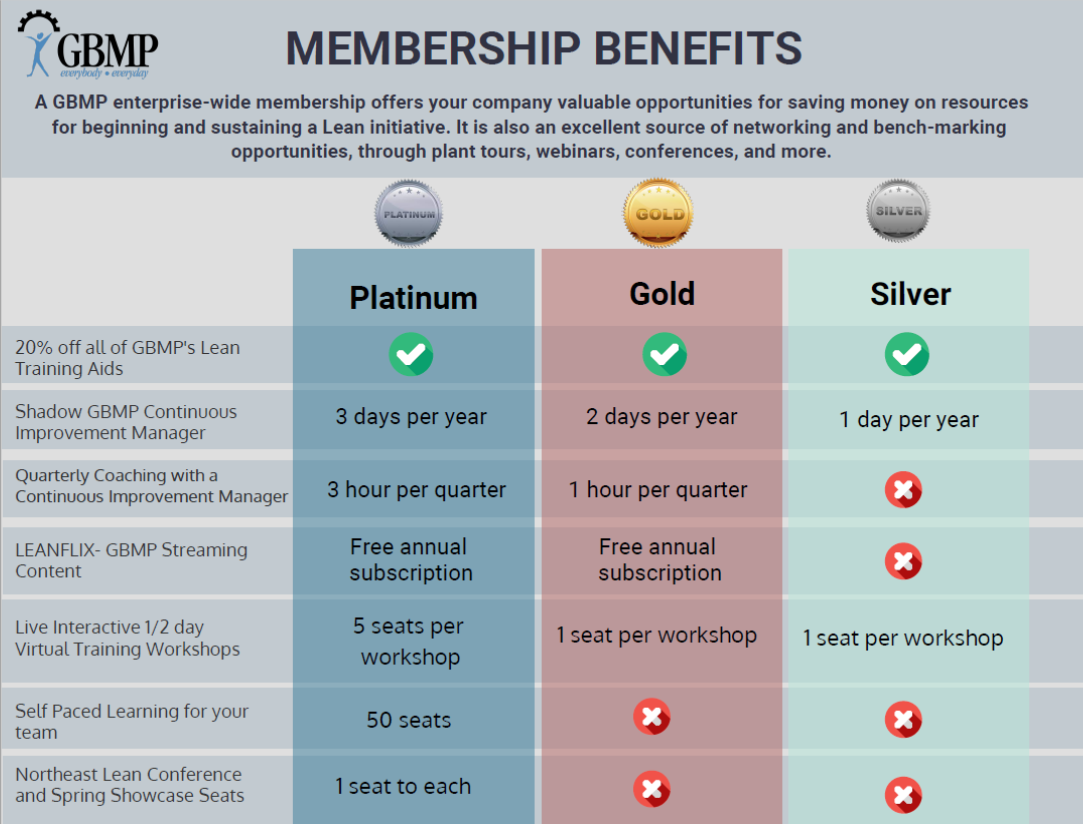 Company-Wide Member Benefits:
Free & Discounted Workshops
Nearly all of GBMP's one day public Lean training workshops are FREE to members. That's at least a $199 value per attendee per workshop. Members also get discounted tuition for our 2, 3 and 8-day courses as well as many LEI workshops and our annual Northeast Lean Conference. Trust us, it adds up! ​​

Discounts on Lean Training Aids
Members receive 20% off all of GBMP's lean training videos, workbooks and games. Members also receive the SME member price (15% off) for the Lean Certification Bronze Level four-book package and exam fees; an excellent addition to your lean library, even if you don't take the certification course or exam.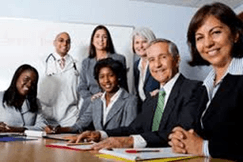 NEW!

Lean Coaching by Phone
GBMP Gold Members get one hour of Lean coaching by phone each quarter. A GBMP CI Manager can provide coaching, advice and guidance - coaching to develop your lean knowledge, advice on your lean management system and guidance for a specific project. Each of our consultants has 20+ years of experience and are eager to help.
Bench-marking Plant Tours
GBMP Plant Tours are reserved exclusively for members. These are invaluable bench-marking events where companies who have successfully begun implementing Lean initiatives share their results. Gold Members get up to four free attendees. Silver members may send up to three attendees for $49 each.
Shadow Days
GBMP member companies can arrange for 2 employees to shadow a GBMP CI Manager for one day of training per year. This is an invaluable opportunity for your people to learn how to facilitate a training session or get new tools for their Lean toolbox. Use this form to request a shadow day.
On-Demand Streaming Content

GBMP Gold Members can access our amazing library of Lean Training Videos, including every single one of GBMP's award-winning videos - from the first one ever, "Toast Kaizen" to our most recent, "Improvement Kata". (Both were recipients of the Shingo Institute Research Award by the way.) These are the full-length videos (which retail for $129 and up) which members can watch anytime, from anywhere, as often as they would like. Our streaming video training content also includes dozens of presentations from the past seven Northeast Lean Conferences, including sessions by John Shook, Dan Ariens, Ritsuo Shingo, Bruce Hamilton, Billy Taylor, Art Byrne, Mike Rother and many more. ​Topics range from Toyota Kata & Hoshin Kanri to Engaging Workers to Create a Kaizen Culture. Also, all ten of GBMP's Virtual Benchmark Tours are available exclusively to members to watch instantly, online, anytime, from anywhere. And, finally, exclusive member content includes podcasts of all of Bruce Hamilton's monthly "Tea Time with The Toast Dude" webinars. Whew! That's a lot of content!*
* Company-wide memberships can be shared with all sites within one U.S. state or geographic area.