Getting Started: ​

The GBMP

Lean Operational Assessment for Healthcare
The healthcare industry is a perfect setting to reap the benefits of Lean, especially when you need a competitive edge; implementing Lean in your organization will lead to fewer accidents and mistakes, improved employee morale and patient satisfaction, increased throughput and better outcomes, reduced costs and higher profits.

A expert GBMP consultant will visit your site and provide you with a written report outlining improvement opportunities to aid you in prioritizing immediate and long term goals. It's free for organizations within a 100 mile radius of Boston, MA and is a must for any Lean in Healthcare program. For more information or to schedule your assessment, call Jamie Millman at 617-710-7033.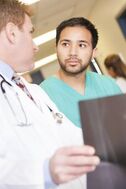 The GBMP Approach to Lean Transformation
THE NEED

Today, healthcare providers are facing a period of unprecedented change in ways that care is delivered as well as the way in which you are paid for your services. Whether you work for a hospital, clinic, physician group, urgent care provider, pharmacy, dentist or skilled nursing or assisted living facility, GBMP's Model for Lean Transformation sets your whole organization up for success.

With the passage of the Affordable Care Act, pressure is mounting for hospitals and clinics to find ways to reduce the rising cost of healthcare without sacrificing quality or patient experience. GBMP's "everybody everyday" philosophy integrates improvement with daily work to build internal Lean capability for your entire workforce.

Did you know that MA law requires lean training for employees in retail and institutional compounding pharmacies? Chapter 159 of the Acts of 2014 signed into law in July, 2014 states "compounding pharmacy license shall not be renewed until the licensee certifies that their employees have been trained in lean concepts, which are tools that assist in the identification and elimination of waste and promote continuous improvement in quality and efficiency." GBMP can help!

Meanwhile Skilled Nursing Facilities are increasingly feeling the pressure to find efficiencies and to do more with less. If you are affected by The Affordable Care Act, chances are revenues are flat due to fixed reimbursement rates and payers and ACO's are demanding you reduce the "Average Length of Stay" and re-admissions? What will you do about these and other important issues?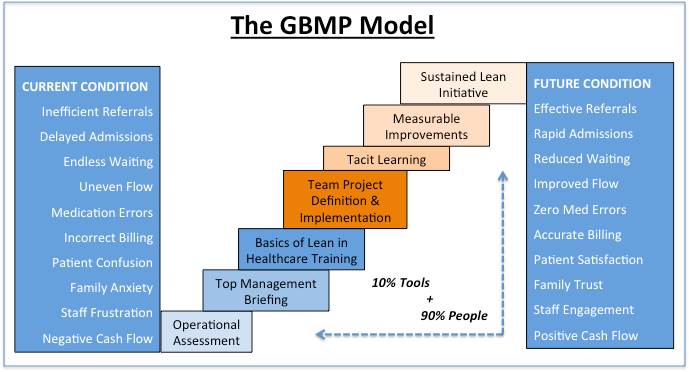 YOUR PEOPLE

The key to Continuous Improvement success is tapping into the vast knowledge and creativity that resides within your employee base. Given the right education, support and encouragement, your employees are in the best position to identify and solve all the problems that exist throughout your organization. Continuous Improvement is about creating an environment where employees can make changes that allow them to spend more time on those things your customers want to pay for!
SUSTAINABLE RESULTS

GBMP's approach is focused not only on helping your organization make initial improvements, but on helping you develop internal capability for a self-sustaining Continuous Improvement program, one that delivers bottom line results year after year. Our training and real world practice work together to get everyone to "see" and take action against the seven wastes on a daily basis.
"It has been rewarding to witness the sense of pride developing within our organization as our physicians, managers and employees implement and sustain meaningful change in a broad array of areas. In only one year we have significantly decreased employee injuries; implemented over 800 suggestions; reduced infections, pressure ulcer rates and a number of other quality metrics; significantly improved inpatient and ambulatory patient satisfaction; sustained significant improvements in patient flow;and implemented a number of growth initiatives. I attribute our varied success to our engagement of abroad number of managers in supporting a focused set of key initiatives through the deployment of lean thinking and daily management. We could not have had this level of success and sustained this much change without the support and training from GBMP."

Kim Hollon, CEO, Signature Healthcare